Okay, grab a cup of coffee and get ready to learn how to make money from a blog. It's actually not that difficult, you just need to know what's possible and who can help you and then you're off and running.
Before you get all caught up in the excitement of how to make money from a blog, make sure you subscribe to my blog so that you get to know about all the cool and free tools and support that I find while I'm out and about on the internet. You can subscribe by popping your email address into the big orange box below (if you're reading this on a mobile) or to the right (if you are reading it on a desktop or tablet). (You will be notified by email whenever I publish a new post so you will be the first to know about it).
Note –This post includes affiliate links. If you make a purchase through this or any of the links on this post I'll earn a small commission at no extra cost to you. It helps us support the running of this website and continue to publish helpful content. I use all of the recommendations I make for my own business, which is why I'm happily an affiliate! Thank you all for your support!
Now let's get on with it before your coffee gets cold. Here's how to make money from a blog…
1. Start a Blog. …
A blog is a page on a website which is designed to be constantly updated with new posts. This is different to  a normal page because usually; a normal page you will just create and then leave alone – you might need to change it once in a while if your contact information changes, or if you have changed your prices or offers but otherwise it stays the same for long periods of time.
To start a blog you first need to buy your domain name and then get it hosted by a company that can keep it online for you 24/7 and make sure it is backed up and protected from hackers.
I have found 2 companies that do this for you at an incredibly affordable price they are TSO Host and Siteground. I have used both of them and can thoroughly recommend them as their service is excellent and they are always on hand to help out with technical stuff should you need it.
For a full and comprehensive guide on how to go about buying your domain name and getting it hosted get a copy of my Ultimate Starter Kit For Bloggers. It's totally free and will take you step by step how to do everything you need to do to set  up your blog and start blogging. It contains pictures and video tutorials for you to follow along with.
2. Start Creating Useful Content.

 
Content is key if you want to make money from a blog as it's the content that you actually make money from.
This can be from affiliate links that you include in your blog that promote other people's products and services (and if purchased by your readers you get paid a commission), or from products or services of your own that you promote through your blog. To find out more about affiliate marketing and how to get started see this post "can you make money from your blog even when sleeping"
Your own content could be a course that you have created to show people how to do something or achieve something. For an amazing and free way to create a professional course for your readers to buy then see this post "How to create a professional online course for free" or it could be an e-book, a report, a swipe file or any number of other things that can be downloaded easily by your readers and customers.
To stand a chance of making a sale to people online, you first need to first build a relationship with your readers so that they feel that they know you and like you. You then need to provide value to them (for free if possible) so that they can try you out and start trusting you. Once you get their trust, they are more likely to buy from you.
This is commonly called list building and here is an amazing resource that is free and that will teach you the exact steps you need to take to build a list of subscribers who will become your raving fans.
To be more likely to attract customers to part money online they first need to get to know you then like and trust you. Once you build this trust they are more likely to buy from you as you are no longer a stranger.
To build trust you need to offer them something first. This something is usually something for free that they can get to try out. It gives you an opportunity to show them what you can do for them and that you are a genuine and real person.
The content that you create should be engaging and offer a solution to a problem that your readers have. The more value you can provide your readers and the more information you can give them to solve their problem, the more they will come to see you as their go-to person.
This means that once they are ready to make a purchase, it will probably be you that they make the purchase from.
Content should be one of five things
Information
Inspiration
Education
Entertaining
Promotion
Having a mix of these things in your blog will keep it interesting and will encourage people to sign up as a subscriber to it and so become a regular reader.
To find out how to create amazing unique content using some free and easy online tools check out this post "12 Free & Easy Tools For Technophobes"
3. Get off your blog and start finding readers.

 
Now that you have your blog all set up, and you have created some content to captivate your readers, you will need to find those readers.
Traffic is not easy to come by and you will need to find ways to get your blog in front of people who are interested in your topic and likely to buy what you are selling, be that your own creations, or those of other people.
One of the quickest, easiest and cheapest ways of getting those all-important readers to your blog is by unleashing the power of Pinterest.
Of course, like everything else, to make Pinterest work for you in record quick time you are going to need a strategy. The best way to figure out a strategy is to copy one that is already working for someone who is achieving what you want to achieve.
I found Michelle Schroeder Gardener while I was looking for someone to help me develop my strategy when building my company Pinterest account and I am so pleased I did. I got over 36,000 viewers and over 750 engaged viewers (people who click, comment, share and re-pin my content) in just over one month.
Of course, the more people who see your content, the more people who are likely to click on it. The more people who click on it, the more chance there is of making a sale. To start making money from your blog faster, see what Michelle has to say here.
A great tool to help you with automating your Pinning is Tailwind. It is authorised by Pinterest as an official partner and it lets you schedule your pins for months in advance which means you don't have to spend all of your precious time pinning manually – although you should still do some manual pinning to.
To get  a free trial of Tailwind click on the image below.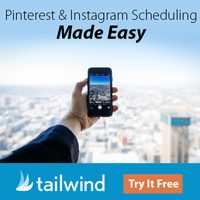 4. Build engagement with the readers that come.

 
Once you have worked on getting your readers, you need to find a way of keeping them engaged and coming back for more. Again, this is something that takes a while and there is a certain amount of skill involved, but where there's a will there's a way right?
As usual, I looked around the internet for someone to help and inspire me and I found Stuart Ross from the Six Figure Mentors.
He is an expert in digital marketing and explained how to engage your audience in a really simple way that even I could understand.
You can hear for yourself what he has to say about making money online here in this short video. If you subscribe, then you will get a free 7 day series that talks you through his 5 steps to online success. This in itself is an amazing lesson on how to engage your audience once you have them.
5. Start making money from the readership you have through one or more of a variety of income streams.

 
Now that you have your blog set up, your amazing and unique content created, readers coming to your blog in droves; and you know how to keep them there through engagement, it's time to start selling.
As I mentioned earlier, there are a few ways of making money from your blog and here's 3 of them, although I suggest you concentrate on one at a time to begin with.
Advertising Income. … You can make money (although usually only a small amount) by having adverts on your site. You can set up a Google Adsense account and they will place "appropriate" adverts on your blog for your audience to see. These adverts will typically be something related to your blog, for example if you are a craft blog then you may get adverts about model kits or craft books or "how to" courses
Advantages: It takes no skill, knowledge or effort from you. Google will just place the adverts into your blog in the places where you have agreed to show them. When someone clicks on an advert you will get paid. Don't get excited though, this will only usually be a few cents (pennies) so you will need thousands of clicks to make any decent money from this strategy.
Disadvantages: Can make your blog look spammy and it does put a lot of readers off when all they can see is pop up and banner adverts everywhere. It also means that your post loses its flow and becomes less engaging. It can also affect the bounce rate of the page. The bounce rate is where people leave your site from the page they came in on. Ie they don't go anywhere else on your site while visiting. Also, like I said, it takes a very large number of clicks to make any decent money so you will need hundreds of thousands of visitors to your blog for this to be an effective strategy.
Affiliate Income. … you make money by promoting other people's goods and services on your blog by adding "affiliate links" to your blog posts. These are links that are specific to you so that the merchant knows who has sent the lead to them and can then pay you your commission when someone goes on to make a purchase.
Advantage: It means you don't have to have any goods or services of your own to be able to make money from your blog. It's also very quick and easy to set up as an affiliate.
Disadvantages: Some companies need you to have been blogging for a while and have at least some following for your blog. See Michelle's information for how to resolve this issue.
Sell your own products or services. …If you have your own products or services then you make 100% of the profit on the sale, whereas if you are an affiliate you make a smaller percentage.
Advantages: You are in complete control over what you sell, the quality, the content and the price. You are more able to tweak the content for your specific audience and you can adapt and edit your products or services quickly if you need to . You will make more money from your blog selling your own services and this can be really easy to do with tools like Thinkific (see my review of them here) for course creation, or many of the other tools I suggested in my earlier post "12 Free & Easy Tools For Technophobes"
Disadvantages: It takes time to create your own products and services and in business time is money. You need to make sure that you find tools and platforms that integrate well so that you can create, promote and sell your products seamlessly. This does take quite a lot of skills, patience and effort.
So there you have it. How to make money from a blog. Like I said, it isn't difficult, you just need to know where to start and what's possible so that you can copy the success of others.
I really hope that you have found this post to be helpful and informative. If so, I would really appreciate it if you would share it so that others might find it too. I have included some popular share icons so please just click away. Without being too cheeky about it, if you found this valuable maybe you would like to show your appreciation and buy me a coffee? By supporting me you are helping me to keep providing this free content to help future bloggers.    Thank you for your kind support.
And so until the next time, bye for now and have a great day 🙂